If you're enthusiastic about long-term, independent, overland travel in general, and are interested in my writing and photography in particular, then I humbly invite you to subscribe to my newsletter.
All the digital content I create is free of charge — a gift. If you prefer, you may also follow me on Telegram.
---
But I can and I want to help financially!
Alright then — thank you so much <3 <3
Here's what I currently have set up — if none of that works for you, please send me a message by replying directly to one of my newsletters, or filling out the form below, and we'll figure it out 🙂
---
Recurring donations
Monthly donations make it the smoothest for me to manage my budget and plan ahead. Sweet, heartfelt rewards await — I hope you enjoy getting mail!
You can do this via Patreon:
Become a Patron!
or via PayPal*: $3/month – $9/month – $27/month
___
* PayPal subscribers will receive the same rewards as Patreon subscribers, according to the chosen tier
---
One-time donations
If you want to contribute but don't feel quite ready or able to commit to a recurring donation yet, one-time donations will also help a lot.
Send $10 via PayPal
This will fund a whole day of on-the-road expenses when I'm traveling. You will get my gratitude as a personalized, handwritten note on a postcard made from one of my photos! Click on the image to choose — you'll be prompted for recipient names and mailing address on checkout.
Send any amount in any way
Send any amount via PayPal, TransferWise ([email protected]), or wire transfers in Brazilian Reais to Banco do Brasil or in Ukrainian Hryvnias to Privat Bank — I will send you a unique, private, short video thanking you from somewhere special along my next trip 🙂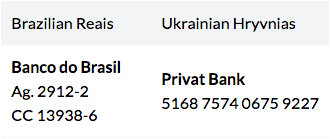 ---
Wish list
Sponsoring a piece of equipment i need is another great way to help me.
I'm working on the budget and wish list for the next adventure, and will update this section soon.
---
Affiliate links
You may also help me through one of the several affiliate links below (more on the way). These are all services or products that I use and recommend. I'm not sure why, but I haven't seen anybody be quite as transparent about this as I plan to be — I'll try to describe as accurately as I can what I stand to gain, and also keep a tally of how much money I've made so far (at the bottom):
Luminar – this is the main program I have used to edit my photos since 2019. It stands in contrast to Lightroom for the lifetime license model, as opposed to Lr's monthly subscription. By ordering through this referral link, you get a $10 discount, and I get a $10 bonus. I also get marginal benefits if you sign up for the free trial, but they have a 30-day money-back guarantee — it shouldn't hurt to try if you're seriously looking for a photo editor 😉


TransferWise – if you're thinking about sending me (or someone else) money via TransferWise, and don't yet have an account yet, then you may kill two birds with a single stone — feed two birds from the same hand? — or better yet, feed the same bird twice with the same meal? Anyway — if you sign up for TransferWise through this link (here it goes again, just in case), the fee on your first transfer will be waived, and I'll be closer to my eventual referral bonus 🙂


TheHost – if you're shopping for domain registration, hosting, etc, then this is the provider I use for my domains and websites. I can't speak much for their security protocols and such, but their pricing is competitive, and they offer excellent customer service in English, Ukrainian, and Russian. If you sign up through this link, then I get a 10% cut.
How much money I've made so far through affiliate links: $0
---
Partnerships, sponsorship proposals, and other ways to help
I am working to include other options such as cryptocurrency and more affiliate links (to stuff I believe in, of course). I'm also open to any other offers you may have, including partnerships, sponsorship deals, testing your gear in exchange for keeping it, and writing an honest review — as itinerant mathematician Paul Erdös might have said, "my bran is open."
If you want to collaborate but none of the above works for you, please write me a message, and we'll work out something <3
---
* All supporters will be signed up for the Not Mad Yet mailing list and consent to receiving emails from me with news, updates, and promotions. You can change your mind at any time — just click the unsubscribe link in the footer of any email you receive from me or contact me at [email protected].